Although it is the era of digitalization, but meeting people face to face is still the need. Meeting people face to face is apparent but managing corporate travel is still complex. With the introduction of technology in the travel industry, various travel technology software has been rolled out in the market. It is necessary to choose the travel software very carefully as some might not prove to be fruitful. Here, we will see what are the must-have features that a travel management tool needs to have.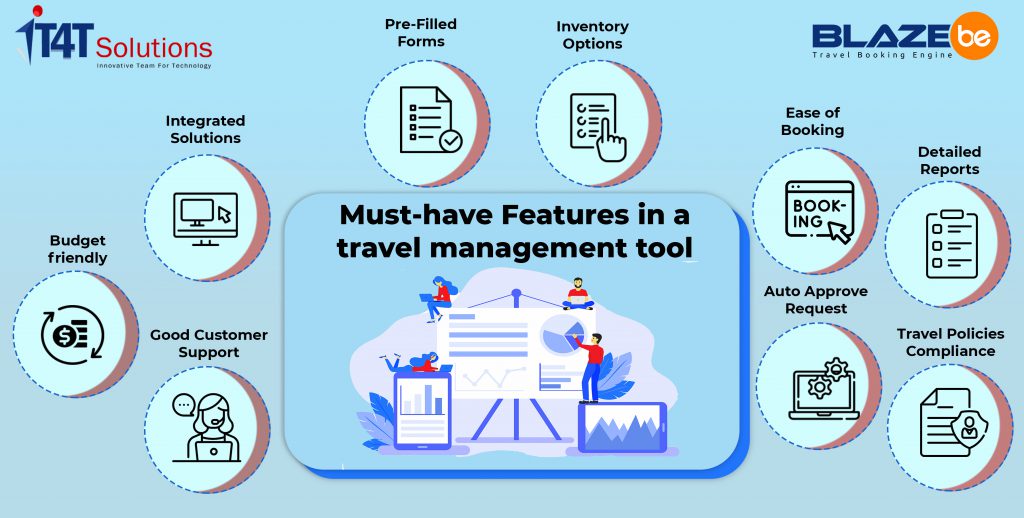 Integrated Solutions:
Always try to look for software that has all the functionalities under one roof. It would be easy to access all the existing bookings and make the changes in the bookings without navigating through different service providers.
Budget-friendly:
You should always look for any hidden charges in your software. Opt for a travel software that has no extra charges and has a transparent pricing structure.
Good customer support:
Customer support services should be such that are available 24×7 and provides flexibility to the customer so that they can enjoy their travel and have someone to answer their queries while they are traveling.
Ease of booking:
You should look for such travel management software that makes the ticket booking an easy process. It should be convenient both for the travel manager and the employee while they make a booking for their regular customer.
Detailed Reports:
One of the main features of the software should be that it provides a detailed report about the expenses. It would be great if you could know the areas where your spending is not necessary. Based on that you can take your decisions and make save that money and invest it elsewhere.
Auto-approve Requests:
When a request is submitted by the employees, it is sent for approval to various levels of management. Having a system in which the request is auto-approved based on certain criteria would be beneficial. It would save time and effort and also increase productivity.
Travel policies compliance:
It is a great relief to the travel manager if he is assured that the travel policies are followed. It helps control the cost of travel and managers can approve the request easily.
Pre-filled forms:
Forms that have basic details like names filled would be of great help. The employee would need to enter the details of the trip and it will make the process easy.
Inventory Options:
It is crucial to choose software that is value for money and provides smooth processing for the employee and the manager. It should also give access to the best hotel and flight operators and compare their dates, price, and offers.
Conclusion
Choosing a software solution that is easy to use and value for money is very important. Also, Travel CRM Software is a trend these days as they help to manage all the operational work in one place.